Custom Dentures Made from High-Quality Materials
If you are missing multiple teeth or an entire dental arch, you can restore your smile with custom dentures from our Denver, CO, practice. Dr. Kyle F. Long has over 15 years of experience providing these restorations. With his expertise and eye for beauty, he can ensure a remarkably lifelike appearance. Your full or partial denture will fit comfortably and snugly in your mouth, improving both your bite and your self-confidence. Additionally, Dr. Long partners with local oral surgeons to provide implant-supported dentures to qualified patients. During a restorative consultation, he can evaluate your oral health needs and goals to help you select the right type of dentures. He can also outline the cost of your restoration and our affordable financing solutions.
Your Dentures Options
Traditional dentures are a reliable solution for replacing missing teeth. These removable restorations come in two different sizes: full and partial. A full denture can replace an entire dental arch, and a partial denture can restore multiple missing but non-adjacent teeth.
Patients seeking a more permanent tooth replacement solution may want to consider the benefits of implant-supported dentures. Rather than sitting on top of your gums, implant-supported dentures will connect to metal posts set permanently in your jaw. Patients must have sufficient jawbone tissue to support an implant, but a bone graft can often replace lost tissue and restore implant candidacy for patients with insufficient jawbone tissue.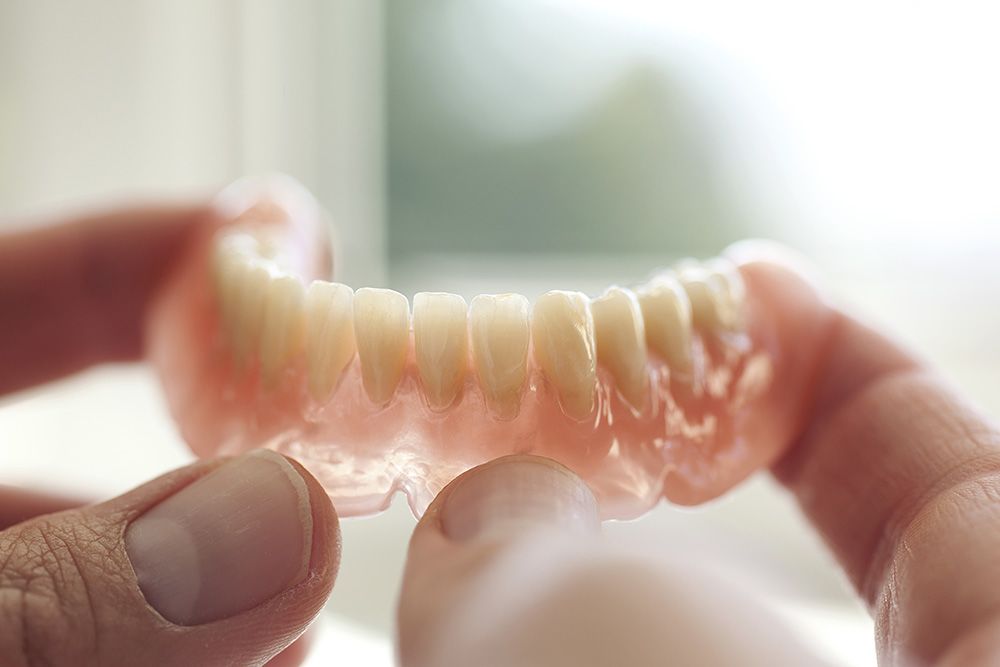 Designing and Fitting Your Restoration
Before fabricating your traditional denture, Dr. Long will need to address any current oral health problems, such as gum disease or active decay. If you have severely damaged teeth, these may need to be extracted. Next, Dr. Long will meticulously design your prosthetic. He will create impressions of your gums and remaining teeth as well as take photos of your teeth for the lab to use to craft your restoration. The lab technicians will ensure that the base corresponds with the color of your gums. They will also ensure that the new teeth, usually made from advanced porcelain, match the natural shade of your smile. It typically takes a few weeks to craft your denture. When it is finished, Dr. Long will ensure it fits correctly and looks realistic. If you are not completely satisfied, he can request changes to your prosthetic right away. He can also adjust your denture periodically to ensure your comfort and to accommodate any changes to the shape of your jaw.
Dr. Long has over 15 years of experience providing these restorations. With his expertise and eye for beauty, he can ensure a remarkably lifelike appearance.
An implant-supported denture will require surgery to set the posts in place. Dr. Long will refer you to a surgeon, and once you have healed, he can attach the prosthetic to the dental implants. He will take just as much care to design a restoration with a precise fit.
The Cost of Dentures
The cost of dentures can vary depending on several different factors. The size and type of restoration you receive are the two biggest considerations. Full dentures will cost more than partials. Similarly, implant-supported prosthetics cost more than removable dentures, since they require surgery and incur related costs. At the same time, implants are permanent and the denture will not need periodic adjustments. Therefore, this type of restoration may be more cost effective in the long run. Whichever kind you choose, Dr. Long can help keep costs affordable while still using advanced materials and treatment methods. We also offer CareCredit® financing, including fixed, low, and no-interest repayment schedules.
Contact Dr. Long's Office Today
With our personalized and detail-oriented care, you can soon enjoy your normal dental function and a complete, beautiful smile. Contact us online or call (303) 722-1690 to find out which type of dentures are right for you.